Imagine having 700 cars go by your store every single day.  Then one day a new roadway opens up and BOOM! It immediately drops to 70.  Then drops even more as time goes on.  How do you survive? What about the other businesses in your town?  What do they do?  How can one person or one small group of people turn a negative like that into a positive?
Ask Angel Delgadillo.  We did.  Angel is considered "The Guardian of US Route 66″ and someone I am honored to call my friend.  He is now an 89-year-old bundle of tourism wisdom and wonderment!  His little barber shop and pool hall is now a worldwide phenomenon.  Tourists from all over the world make it a "must stop" part of their journey to or from the Grand Canyon National Park.
But how did that happen and what can Boulder City learn from this man and his mission to save his business, his hometown and the businesses of fellow friends on the once busy highway? Plenty!  And you won't have to wait ten years as he did!
The Angel
With the opening of Interstate 40 just a few hundred yards from US Route 66, people quickly jumped from traveling the old rough two lane highway to zipping by the small town of Seligman Arizona on the new multi-lane roadway. Traffic going through Seligman died the moment the ribbon was cut and never came back.
Ten years later, Angel finally had enough waiting for someone to do something and he took the bull by the horns and became that someone.  He was the one who first organized the Historic Route 66 Association and He is the one who drops the flag each year at the Fun Run.
Today, tour buses with tourists from all over the world make the little turn-off from I40 and drop thousands of tourists on main street Seligman.  Tour groups, car clubs, motorcycle groups and others make it a point to drive the now famous highway and get their pictures in front of the famous barber shop then step inside and get their fill of "Mother Road" memorabilia.
The idea behind the Association was to prove the little highway was still important and the businesses along it could give you what others along the fancier highway can't;  A little bit of that lost Americana people love to see in movies and read in books.
They did it by banding together, talking to each other and most importantly talking ABOUT Each Other.  You see on facebook groups and Instagram feeds how other Rt 66 shops and PR teams talk about and often link to fellow Rt 66 business sites and profiles.  The good ones, the ones with a healthy flow of tourist traffic, they promote each other and they promote the people promoting the Highway.  Not just their store or hotel, but others as well.
When being interviewed or when being asked about the famous roadway, they like to talk about the other businesses they are friends with.  In their blogs and in their feeds you will see links to others down the road, always with a nod to the owner or staff member by name, making it a great review or recommendation.  People love that personal touch, that name for a reference or friendship. Paying it forward is what they call it.   support each other.
Not only is this great support of the road itself, but it's great relationship building.  In the world of internet marketing, all this constant positive cross promotion feeds the all important search engines and raises everyone's profile in the search engines of the social media websites.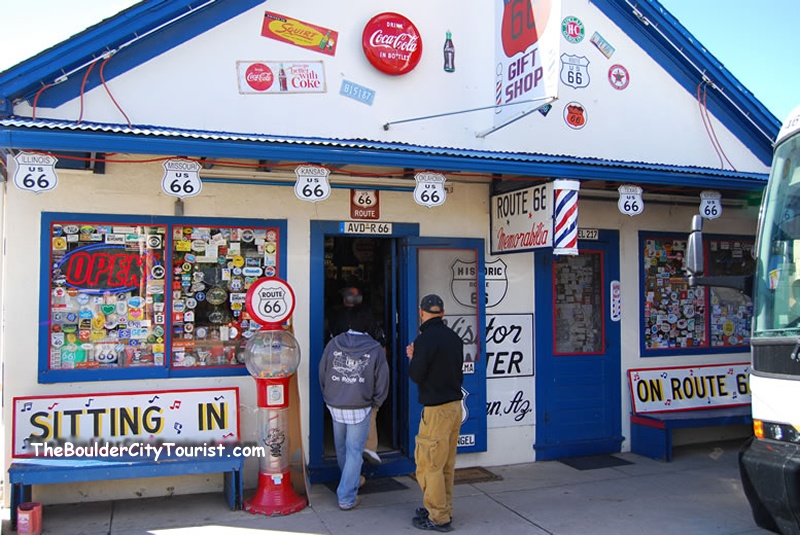 Inside the barbershop is not only a welcoming free cup of coffee waiting, but the tourist can leave their business card on the wall.  People love to see others who came before them and see where everyone else came from and stopped by.  This causes the tourist to take more pictures and selfies to post on their feeds and that feeds the search engines.  More free marketing for the business as well as the town and the roadway.  One for all, all for one.
They realize it's a group effort.  One survives, they all survive. To many, that may seem like a lost art.  Bonding together for the good of all.  When you hear Angel talk, it's never really about him, it's about every other business owner who took that chance and believed in what he had to say. That they could get people to get off the highway and come to their little town(s) if we told them the story and gave them something they were searching for.
Step inside Angel and Vilma's store and talk to any member of the staff, they are all family.  Another lost bit of Americana.  They know the story, they know the store and they know what the customer wants.  and it's not always about selling the bling.  Tell a good story, relate it to something from the customers' town, country or life and they will just want to stop, stay a little longer, look around and buy something.
Don't ever be afraid to send them to another store down the street you know and trust.  It will pay you back in the future.  It always does. When people see that you are in this together and love what you are doing, they will naturally pay it back.  Maybe not today, but when they get back home and start talking about "that stop we made along the highway" to their friends heading our way. Showing everyone the pics on their phone or the video they posted to YouTube.
So get on your Facebook feed, Instagram or whatever other social media source favored by your customers and talk about your business and the other businesses around you.  Let the world know it's just not about you but about Boulder City.  Show the world your customers coming in, where they are from and what they love about your store.  Get your Google Plus Business Profile filled with reviews, photos, and details about your business.  (you do have your Google Plus Business profile filled out, right?)
See what can happen. Maybe you can be as famous as Angel is!
Editors Note:  This post was previously published on www.TheBoulderCityProject.com